Services
Law and regulations governing property and ownership rights helps to protect and safeguard your property.
So regardless of whether you are thinking of purchasing a property or selling one, there are a
variety of real estate legal services that we offer to clients.
Scrutiny of
Property documents
and Legal Opinion
Preparation of Sale
Agreements
Preparation of
Construction Agreements
Preparation of
Sale Deeds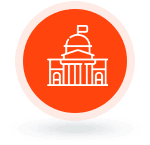 Liaison with Registration
Departments for
document Registrations
Why do you need a lawyer
when buying a house?
A real estate attorney will carefully review the land title and permissions.
A real estate attorney will check the deal to ensure it is not unjust.
They can assist you in determining any potential red flags and implications you might have missed.
The more complicated the deal is, the more you will gain from the lawyer's specialised experience.
Despite self-help tools like RERA, a lawyer has a better chance of prevailing over the builder's legal department.
Hold the builder legally accountable if the project is delayed or obligations are not met.
Most of the time, doing your legal research in advance prevents future legal disputes.
ENQUIRE NOW
We deliver professional
service with ethical solutions.
Keeping a track on end to end documentation
in line with property laws, regulation and
compliance for a smooth and quick transaction,
our service stands Delivered.
Drop in a line with your details
Blog
What's new and what's happening – It's all here.